WOLF EXPERT ADVISOR FOR SCALPING
STORY OF MY EXPERT ADVISOR
I have been using a scalping strategy for a while now on several pairs on the forex market. I have decided to dedicate my EA to just one pair as it gave me the most profit, which was XAU/USD (GOLD). For this scalping strategy, I use to sit on my laptop for hours a day and scalp the forex market to take small profits here and there, as scalping is a trading style that is only meant to hold a trade for a very short period of time, therefore take many trades throughout the day. I did just that but therefore I was forced to be glued on my computer as I did not want to miss any opportunity for a trade.
I then decided to make an expert advisor (EA) robot that would automatically initiate, execute, and modify my actual trades according to the preprogrammed instructions of my strategy. This scalping strategy is based on the 1-minute Timeframe where it takes several trades in a short period of time and usually closes all or most of the trades at the same time which leads to a profit overall once all of the trades are officially closed. Some trades do come out in minus as you cannot always win in the forex market and most of them in profit, overall there is profit gained.
As the pair, XAU/USD is very volatile due to many different economic and political factors. This means that the pair moves very fast, changing the price every second and as my EA runs 24/7 it takes every single opportunity and executes the trades as intended.
HOW TO SETUP THE EA
STEP 1
Now, first of all, you will need to have a MetaTrader 4 trading account, and a minimum balance of $500 and minimum leverage of 1:500 is very recommended to be able to use this EA and gain profit.
(If you do not have a proper broker yet to trade on the MT4 platform then please do not hesitate to contact me and I will send you a link to register for one of the top brokers that I use, that help me maximize my profits)
Open MT4, then go to Tools à Options
STEP 2
Tick the boxes which are marked below!
STEP 3
Then go on  File à Open Data Folder
STEP 3.1
STEP 3.2
Copy the file FXWOLF GOLD EA.ex4 and paste it to the Experts folder
STEP 3.3
Then go back and copy the Setfile M1 GOLD SET.set and paste it to the Presets folder

STEP 3.4
Then right-click on Expert Advisors à Refresh And after that, the FXWOLF GOLD EA will appear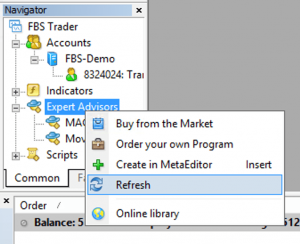 STEP 4
Open the chart with the pair XAUUSD (GOLD) and select the Timeframe (TF) M1!
Make sure it is the exact symbol (XAU/USD or GOLD) that you should be trading as this EA is only applied to GOLD and on the 1-minute (M1) Timeframe
STEP 4.1
Double click on FXWOLF GOLD EA which is under the option Expert Advisors and the Arrow appear

STEP 4.2
Then you go on Inputs, press Load on the bottom right. Then the setfile M1 GOLD SET.set should appear. You then select the file and press open and the Inputs should change when selected to Arrow
Final Step- Congratulations Your EA is Setup
Then click OK and you will see FXWOLF GOLD EA with a smiley face on the top right of the chart, which means everything went well and it will start trading soon!
Note:
It is recommened to leave your MT4 termnial running all the time and not to close it, if you do then no trades will take place
If you want to shutdown your computer and the MT4 terminal then it is best to do so when all the trades have closed and there are currently no active trades going on